Enterprise Apps—
Made by Zappter
Our No Code Platform allows us to build Enterprise Apps up to 10x faster and cheaper than other providers. Tailor-made applications, flows and integrations can be created by drag and drop with our proprietary Zappter Engine.
Learn more
or
Contact Enterprise Sales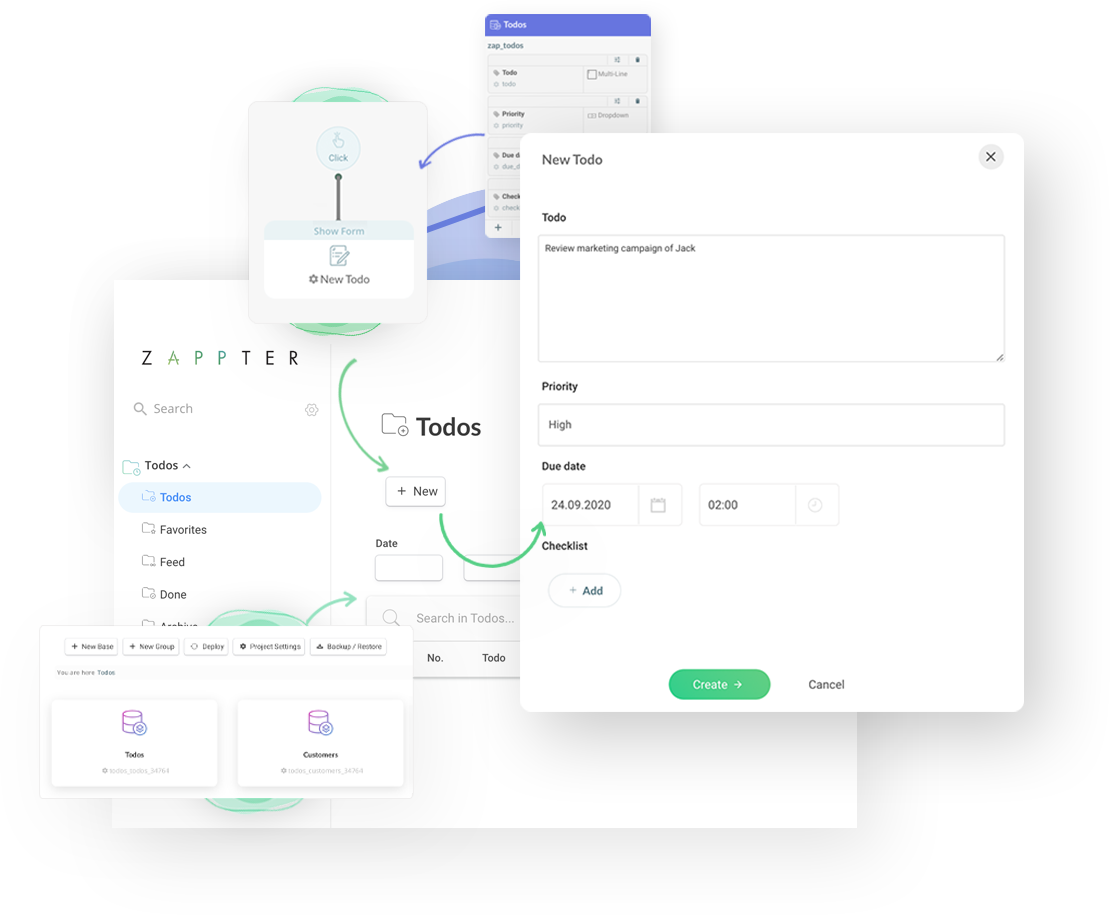 Up to 10x cheaper—
More affordable than any competitor
We have developed our own proprietary No Code Platform. This allows our developers to build apps by drag & drop instead of coding line-by-line, leading to a productivity improvement of up to 10x vs. traditional development.
Well-known large and small companies trust Zappter
Customer Success Stories
Businesses have the ability to leverage solutions, built with Zappter No Code Tools, from anywhere in the world. It's power, flexibility and security have enabled leading businesses to digitalize static processes with minimal investment. Increase agility, lower costs, and accelerate innovation using - with Zappter No Code Tools.
Zappter Engine—
Visual Scripting
With Zappter Engine's content-, design- and data-creator, we rapidly prototype and ship interactive content without writing a line of code. Just by clicking we build data behaviors and interactions, modify user interfaces, adjust input fields and forms, configure authentication-systems and so much more.
150 Building Blocks—
For your tailor-made app
Zappter's application development platform consists of >150 ready-made elements which can be combined by drag and drop.
Explore the Marketplace
Integrates with your favorite service
The simplicity of Zappter allows you to connect your existing services with just a few clicks.
Device-Independent—
One unified framework for all platforms
Connect your application with the same high-end experience on all major platforms, from mobile devices to desktops and beyond: Expand your personalized solution into a hybrid app for the Apple App Store & Google Play Store simply with drag & drop and get access to mobile-native functions such as push-notifications, camera or QR codes to drive your business forward.
Maintain your solution—
Anytime in real-time
Zappter's unique system and comprehensive features allow you to effortlessly maintain and expand your custom solution. Whether it's workflows, alerts, click actions, different departments or external databases, Zappter Engine makes tedious development a thing of the past.
Why our customers love Zappter
Talk to our Enterprise Sales Team
Explore how Zappter can deliver your Enterprise App at a fraction of the cost and delivery time of other providers.
Contact Enterprise Sales
Do-It-Yourself
App Development
Enterprise Apps
App built by Zappter
One-time costs for the app creation
iOS & Android App
Progressive Web App
Access to Zappter Marketplace
Private modules
Individual feature development
App built by Zappter
One-time costs for the app creation
iOS & Android App
Progressive Web App
Access to Zappter Marketplace
Private modules
Individual feature development